← Back
The Peaky Blinders Guide To The Pocket Watch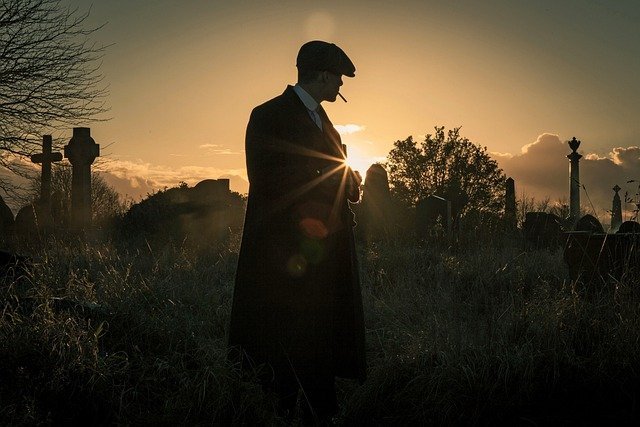 The Shelby family has taken over our screens and our wardrobes thanks to the hit TV show, Peaky Blinders. Since it first appeared back in 2013, we've been addicted to this gritty British drama and we're not ashamed to admit that we've got a bit of Tommy Shelby wardrobe envy.
Getting the Peaky Blinders look isn't just about throwing on a three-piece suit, flat cap and perfecting your best Brummie accent, it's about those little details that make Shelby & Co such formidable forces. In each episode, we've been transfixed by the accessories on the show from the effortlessly stylish pocket squares to Alfie Solomons iconic top hat, but we're especially keen on those glinting chains that we've spotted hanging out of the pockets of the Shelby men…
In this blog we're going to look at Peaky Blinders inspired fashion, how you can get the look and how you can top it all off with one of our pocket watches.
Right lads, by order of the Peaky Blinders…let's get to work.
The Suit
You won't get away with just any old suit for a Peaky Blinders inspired look. You need to look for a vintage-inspired fabric such as a herringbone tweed that will invoke the classic Shelby look. A three-piece suit with a matching waistcoat (to house the all-important pocket watch) should be paired with a white shirt with a soft, rounded collar. Also known as a 'club collar', this softer edge will give your look a vintage twist whilst letting you stay contemporary with a slim fit. The trousers should be slightly cropped to really give your footwear it's time to shine (more on that later…) and be of a slim cut.
The Shoes
Footwear is a key part of Peaky Blinder style and a pair of thick-soled work boots is a great choice. Although you might not be stomping around factories and cobbled streets, the boots create an authentic look that will be framed by your cropped trouser. If you're heading to a more formal occasion, a pair of flat black brogues will work just as well.
The Accessories
No self-respecting Peaky Blinder is seen without the iconic flat cap. This adds that extra bit of heritage to your look and will look great whether you want to go full 'Peaky' or simply add a dash of their style to your wardrobe. A long coat adds a dash of elegant drama to your attire, look for muted tones that compliment your suit rather than overpower it. For those little finishing touches you can incorporate elements such as braces, bow ties and pocket squares to your ensemble.
The Pocket Watch
Whether you're more Tommy, Arthur, Michael or John, one thing is for sure – no Peaky Blinder is spotted at a formal event without their trusty pocket watch. The flash of the T-Bar chain gives the Peaky Blinders look that extra dash of power and confidence and we've picked a selection of our pocket watches that perfectly encapsulate the era.
Peaky Blinder Pocket Watches
The attention to detail on this beautiful Greenwich pocket watch makes us think it's right up Tommy Shelby's street. The chrome plated case has a viewing window on the front and a heartbeat window on the back, giving it that vintage feel that would look perfect with a sharp suit.
Keep it sleek, simple and classic with this chrome plated full hunter pocket watch. Part of the Jean Pierre collection this watch features black Roman numerals and a date display, perfectly marrying vintage style and modern progress – just like the Shelby family.
Many of the Peaky Blinders are spotted with a gold chain hanging from their waistcoat and this exclusive gold plated full hunter watch from Limit is a fantastic choice. The white face has Roman numerals, bold baton markings and comes with a matching gold T-bar loop chain.
Discover our full range of Pocket Watches and create your own Peaky Blinders inspired look with our range of vintage and contemporary designs. We also have a selection of pocket watch chains and pouches, perfect for keeping your timepiece safe and sound.
Make sure you share your Peaky Blinder style with us on Facebook!
Back To Top