← Back
Pocket Watches: Not just for the 3-piece!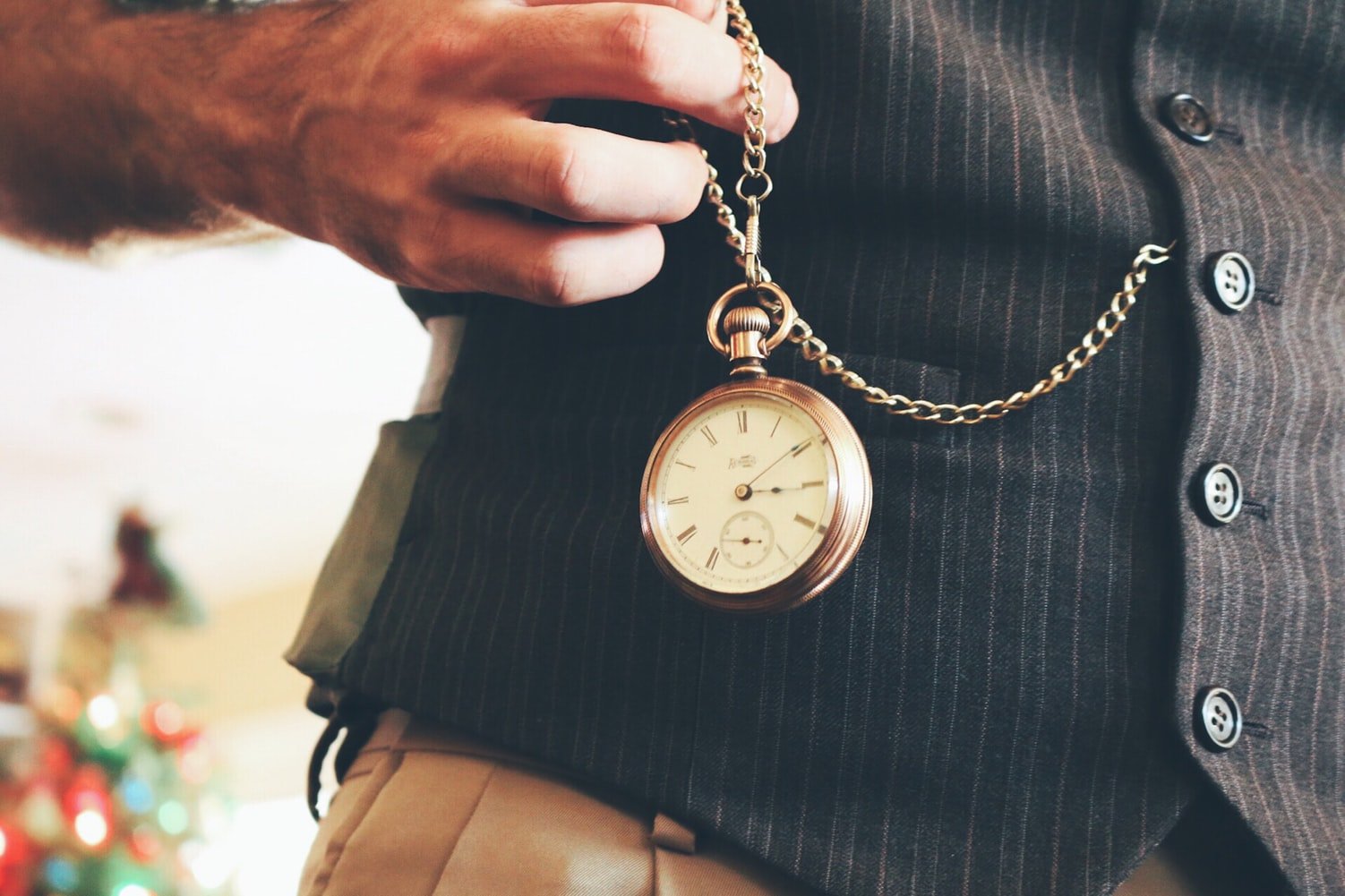 Pocket watches are traditionally worn with a 3-piece suit, however, with vintage style having an uprising at the moment, it's becoming common to see these timepieces being worn in unconventional ways! Pocket watches are now being included in a range of casual ensembles, from slight deviations such as pairing with a 2-piece suit to wearing with jeans and t-shirts.
We love seeing all of the different ways that you wear your pocket watches and if you're looking for new ways to incorporate your timepiece into your everyday look – we're sharing our favourite pocket watch style tips with you.
Wear a pocket watch with a two-piece suit
Not everyone has a three-piece suit in their wardrobe, or an occasion to buy one, which explains the rise in popularity for people wearing their watch with a more casual 2-piece. If you're planning on doing this, wear the pocket watch in the breast pocket of your jacket and insert the fob through the buttonhole on the label above it. Alternatively, wear your watch in a side pocket of the trousers and place the fob in the smaller pocket along the waistband.
Wear a pocket watch with a waistcoat
If you're attending a summer wedding or special occasion, chances are you're not going to wait to wear your jacket all day. If you usually wear your pocket watch in your jacket pocket, you can simply switch to wearing it with your waistcoat instead. This is the classic way to wear the pocket watch but ditching the jacket will give it a modern twist. Place the watch fob in one of your waistcoat pockets, the fob should pass through the buttonholes in the middle and terminate in a pocket on the other side, anchored by another object such as a cigar cutter. To give this an additional contemporary twist, look for modern pocket watch chains that will really stand out against the traditional feel of your attire.
Wear a pocket watch with jeans
Wearing a pocket watch with jeans may seem like a contradiction, however, 'back in the day' before wristwatches, it was common for the pocket watch to be tucked into the small pocket that's still seen on modern denim designs today. Although most people use this pocket for small change, a pocket watch fob will fit snugly in this pouch with the chain dangling through to the lower pocket which is where you will store your watch. If you are wearing your pocket watch with jeans, we recommend sticking to smart look with polished loafers, a smart blazer and minimal accessories – let your pocket watch do the talking!
Pocket watches are truly timeless additions to any outfit, whether you're dressing up or dressing down. At Pocket Watch, we've put together a wide range of pocket watches to suit both traditional and contemporary attire. From a wedding suit to a day at the office, there's no excuse not to showcase your favourite style!
Shop the full range of pocket watches and pocket watch chains today.
Back To Top