Rapport Watches
With inspirations drawn from original antiques, the Rapport London pocket watch collection is perfect for lovers of classic timepiece styles. Whether you're looking for a pocket watch for a wedding or special event, or you're looking for a thoughtful gift for someone special in your life, Rapport London have you covered. Explore classicgold pocket watches, or choose an intricate skeleton design and marvel over the complicated inner movements. To add a personal touch, be sure to also explore ourpocket watch engraving service.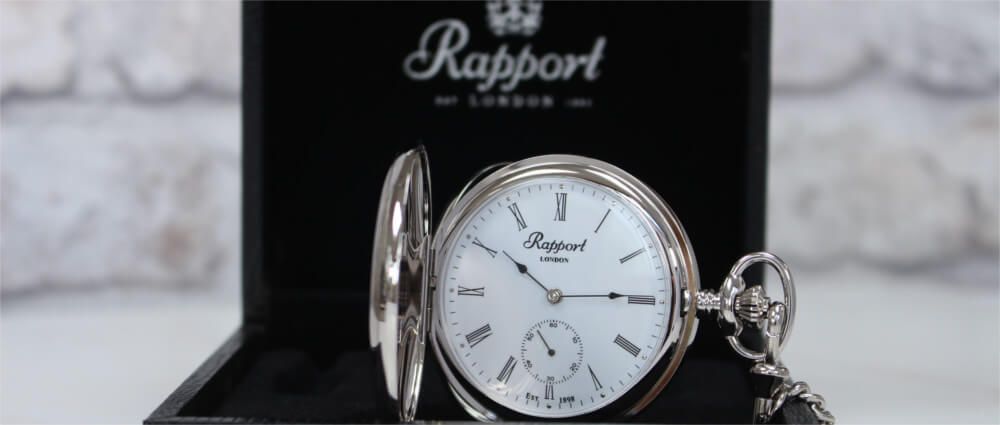 Rapport. Quality and craftsmanship at its best. These beautiful timepieces have drawn their inspiration from antique originals making a timely gift for the discerning gentleman. Arrives in a leatherette presentation box with a matching chain and full guarantee.
If you're looking for a stylish blend of creative designs and classic charm, our selection of Rapport pocket watches is a wonderful place to start. This British brand has been producing timepieces since 1898 and is now known across the world for its clock-making skill. With a wide range of dials, tones, case styles, and numeral types combined with a long association with quality and creativity, Rapport pocket watches add a touch of class and elegance to any outfit.
OUR RAPPORT RANGE
Here at Pocket Watch we seek out some of the best and most prestigious names in pocket watch design and history and we combine our knowledge and love of the industry with the expertise and quality of some wonderful manufacturers. So, we are delighted to bring you a range of quality Rapport pocket watches.
Browsing through our selection of Rapport pocket watches, you can find innovative timepieces featuring dual dials or matte-black case colours as easily as you can locate traditional designs with mechanical movements and Roman numerals. Use the refine bar on the left-hand side of your screen to choose your favourite design — some of which feature a free engraving service — and find the ideal unique gift or special treat.

Rapport is known for its quality and has been producing timepieces for more than a hundred years and its not unfair to say that their products can now be found all around the world and have become one of the household names in the industry. Perfect for special occasion gifts such as weddings or an anniversary or if you are feeling particularly indulgent as a special treat for yourself!
Also available at Pocket Watch
We also offer pocket watches from more of the world's leading brands, as well as pendant watches and fob watches for nurses.

So, for much more information about Rapport of London pocket watches and any of the other products available from this website, please don't hesitate to call us on 024 7650 1002, where a member of our friendly sales team will be happy to discuss your requirements with you and to ensure you are completely happy about your potential purchase.
Free uk delivery
All orders are despatched via the Royal Mail, we may require a signature upon delivery. We aim to dispatch orders within 24 working hours.
FIND OUT MORE >
Free bespoke engraving
Why not add an engraving to your pocket watch to make a gift or occasion extra special, guaranteed to be cherished by the recipient for years to come.
FIND OUT MORE >
Free cleaning cloth
All pocket watches come with a free micro fibre cleaning cloth to help keep your pocket watch as prestine as the day you received it.
FIND OUT MORE >
Back To Top